Brief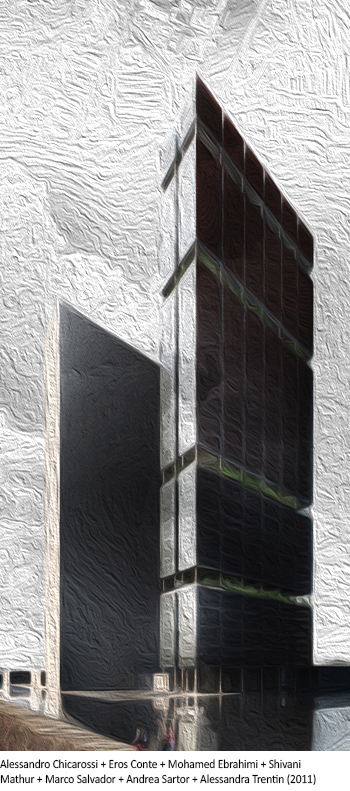 "The Venice Towers" objectives are to guide the students through the design of a tall building development in the unique natural and cultural context of the Venice lagoon.
The brief asks the students to design a small cluster of towers (100-150 meters) surrounding a taller building. The complex will be located in a dismissed industrial area in the west part of the lagoon, on the south of the residential city of Mestre that is now the center of an extensive redevelopment project.

As these towers will be part of the future aspect of Mestre, all projects currently planned are considered to be already built.The location of the project site requires the definition of a new border between the lagoon and the mainland, with the creation of public spaces, open areas and the mixed-use tall building structure, in order to recreate the complexity of an urban district. Given the complexity of the brief, students will be asked to work in small teams.
Students will work on their projects from Monday to Friday for the 2 weeks of the workshop, alternating focussed lectures, on-project activities, public debates and moments of rest when they can enjoy the proximity of the beaches or the exciting historic monuments of Venice.

The Venice lagoon is a fantastic place where nature and manmade blend together in a rare state of delicate equilibrium. Along the past 15 centuries Venice has developed a gradual and progressive densification of the once scattered little islands in the middle of its lagoon.
The "modernization" of Venice took part at the end of the 19th century with the construction of the railway bridge and, subsequently, of an industrial area on the borders of its lagoon. During the 20th century, industrial and chemical plants have grown on its borders, namely in the area called Marghera, jeopardizing its uniqueness but on the other hand renewing the economic wealth of the region.
The building site is located in an expansion area of the city of Mestre, where offices, hotels and universities have recently moved. The immediate proximity of the building site features some unique historical monuments such as Forte Marghera, Venice's last fence from the mainland attackers in the past. Its now time to revamp this unique area, so as to renew its crucial importance for all the surroundings.Venice should not be considered only as a sort of romantic background, but as a real problematic city whose specificities and values will influence the project. For this reason alongside specific lectures on skyscrapers, a number of contributions will be given about the urban history of this unique city.

"The Venice Towers" workshop will be held at Permastelisa headquarter in Venice in Palace "Giustinian - Lolin, S.Marco 2893 a wonderful Baroque palace ou the Grand Canal designed by Baldassare Longhena.